Get The Book
Pull Thinking®: Harness the Power of Pull to Fuel Growth and Ignite Performance by Aligning People, Culture and Purpose.

By Kenneth E. Meyer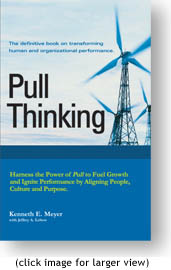 It's the reference book behind the revolutionary performance methodology—Pull Thinking. In it, you'll find a step-by-step, easy-to-share approach that details how you can quickly optimize human performance and open the way to greater profitability. More than a good read, this book delivers hard-and-fast tools you can immediately put to work, with plenty of case studies, supportive learning examples and practical, real-world guidance for team leaders.

READ THE PREFACE
(requires Acrobat Reader)

Amazon Reviews
ORDER THE BOOK
To order, please send your check for $45.00* (Georgia residents add 7% sales tax) plus $6.00* for shipping and handling to:

PULL THINKING® BOOK ORDER
5555 Glenridge Connector, Suite 200
Atlanta, GA 30324

OR

Subscribe to the E-Book course:
a collaborative learning platform
Order by credit card: $28/yr 404.459.2585

OR
Order the Kindle version now abailable on Amazon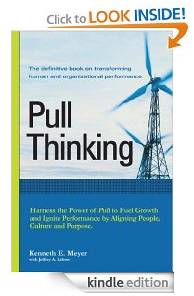 OR

Contact us at book@pullthinking.com.

*Special shipping and quantity discounts are available.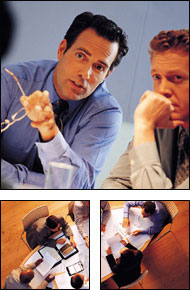 "We've been trying to solve this issue for six months with over $200,000 in repairs costs. Using Pull Thinking, we resolved it in two weeks!"
-From the book Pull Thinking

"I read the entire Pull Thinking book over Thanksgiving and was blown away by it... This has made my work a lot easier..."
- Kevin Howarth, Editor, TechLINKS Magazine
Norman Vincent Peals once said, "Change your thoughts, and you change your world." Ken Meyer hits the nail on the head (duh!) with practical advice on the power of Pull vs Push in the work world. Your customers and employees will love the clarity of knowing just who they are, where they stand , how they got there and where they are going next. Pull Thinking is a win-win methodology and strategy for solving problems in any size business, using Meyer's how-to illustrations and easy questions. Could it really be this simple? You betcha!
Judy Muller, Principal Consultant, True Fruit - www.true-fruit.com
"A major aerospace subcontractor spends close to $500,000, but fails in its attempt to implement Total Quality Management, Just-in-Time and Demand Flow Manufacturing. Using Pull Thinking, a pilot team succeeds within months and becomes the first certified world-class team within the $6 billion parent corporation."
-From the book Pull Thinking